We, at Auditro Hi-Fi Systems, present the Denon RCDN- 11. Enjoy stellar sound that caters to a minimalist?s choice of style. The Denon RCDN-11 Hi-Fi-Network CD Receiver with HEOS Built-in music streaming, Bluetooth? and voice control is the perfect compact stereo for all your musical desires. Experience virtually endless sound possibilities with the RCDN-11. Enjoy an immersive audio experience while listening to your favourite CDs, stream your playlists via Spotify, Deezer Premium or Tidal, go multi-room with the HEOS Built-in technology, using Bluetooth? or your network. Enjoy Internet Radio and AirPlay2. And for optimum convenience: Control this Mini HiFi system easily via your voice with Amazon Alexa, Google Assistant, and Siri via Apple AirPlay 2.
Warranty
1-year manufacturer's warranty
Key Features:
Sophisticated, sleek design with a minimal footprint
Exceptional Sound Design
Intuitive Touch Pane
Stream music wirelessly from the most popular music services
Amazon Alexa voice compatibility
Improve your TV sound
HEOS whole-home audio solution
Durable, double layer, scratch-resistant top panel
Benefits of Denon RCDN-11 HI-FI Network CD Receiver:
HEOS Music Services, Multi-room Streaming, and Amazon Alexa Voice Control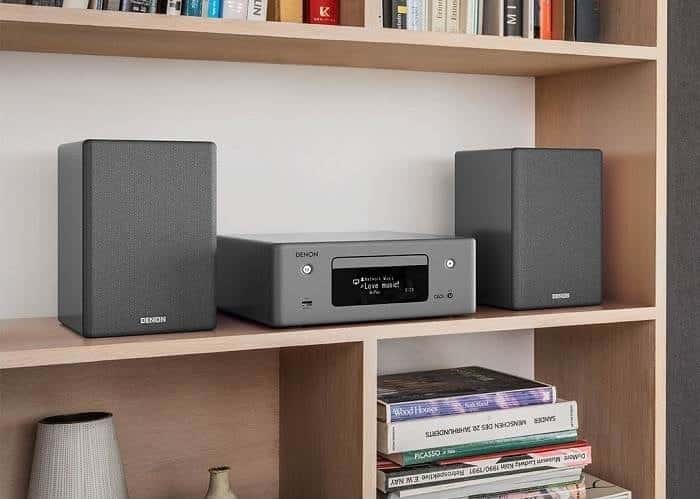 With the Denon RCDN-11, you can enjoy playing your favourite tunes on your preferred music streaming services including Spotify, Deezer, Tidal, Amazon Music and more. Ask your Google Home, Google app or other devices with Google Assistant built-in to control the content across your listening environment. Start music in the HEOS app, then ask your Google Assistant to control volume, play, pause, or skip tracks. ?Works with the Google Assistant? feature is always improving ? further improvements featured via future firmware updates. Select the sound or source you like, turn up the volume, or skip to the next track. You can do all this and more with simple voice commands. Since the RCDN-11 Mini System is compatible with Amazon's Echo devices and Alexa Voice Service, it'll literally read your every wish from your lips.
Remarkable Sound Design That Ensures Clarity and Musical accuracy

RCDN-11 is built for optimum sound performance with a custom-made two-way speaker configuration that improves clarity and musical accuracy. You will hear every instrument clearly with enthusiast quality.
Intuitive Touch Panel for Immediate Response
A key design element is the touch keys on the top of the RCDN-11. They give an immediate response ? by light. This Network-Receiver also has a double-layered scratch-resistant surface which renders a distinct and gratifying feel.
Start Listening Right Away, As You Get Spoilt for Choice
RCDN-11 is fast and intuitive to set up, taking just minutes from unboxing to filling your home with pleasant music. Just follow the simple instructions and connect to your favourite streaming services with ease. Or just pop in a CD. You are spoilt for choice.
Where to buy?
Buy the Denon RCDN-11 HI-FI Network CD Receiver online at the best price in Mumbai, Delhi, Bangalore, Chennai, and all across India. Enjoy expert, prompt, and courteous customer service from the Ooberpad team. We offer you unmatched pre-sales support to help you make the right buying decision.
Technical Specifications of Denon RCDN-11 HI-FI Network CD Receiver:
Brand & Model #
Denon RCDN-11

Rated Power Output

65 W + 65 W (1 kHz, 4 ohms, 0.7% THD)

Dynamic output power

80 W + 80 W (4ohms)

Power Supply
230V / 50/60Hz
Power consumption
55W (Standby 0.3W)
Frequency response
20 Hz??20 kHz
Ports

In:?
USB Front x1
Ethernet x1
AUX in x1
Digital Optical x2
FM/DAB tuner antenna x1
Out:?
Subwoofer Pre-Out x1
Speaker Output Terminals x2
Headphones x1

Dimensions (W x H x D)

280 x 108 x 305 mm

Weight

3.4kg
Denon, Japan's original audio brand has been turning ideas into reality for over 110 years. Shaped by an intimate relationship with Japan's national public broadcaster, NHK, the brand spent its early years developing groundbreaking technologies that would reimagine audio paradigms. Denon quickly established itself as the world's most innovative audio brand, regularly first to deliver new technology. Since then, it has drawn on its rich history to inform countless new developments. After all, it was the brand's Hi-Fi expertise that lead Denon to create the first AV Receivers. Now, from its Audio Works facility in Shirakawa, the brand continues to build on its legacy of technological firsts, exploring new formats, processes, and products.