Marantz design engineers encapsulated everything they learned in building the Premium Range and applied it to this first-of-its-kind, exquisite player. Introducing "The Complete Digital Music Source Player". The ND8006 delivers globally renowned Marantz sound from literally unlimited music sources, including online music services, HEOS multi-room technology, locally stored high-resolution audio files, CD audio playback, AirPlay 2, Bluetooth and more. Easily upgrade any existing audio system to the best of Digital music – along with a mega-portion of versatility. Wherever and however your favourite music is stored, you can now enjoy it in pure Marantz quality. You would never have to settle for anything that's less than stellar in music.
Warranty
1-year manufacturer's warranty
Key Features:
High quality CD, CD-R/RW (MP3/WMA) playback
AirPlay 2, Bluetooth, Internet Radio, Spotify Connect, Amazon Music, TIDAL, Deezer and more
2x optical, coaxial and USB type B digital inputs with noise isolation circuit
Audiophile 192kHz/32bit D/A conversion (ESS9016) and dual crystal clock
Marantz proprietary HDAM-SA2 circuits
Full discrete headphone amplifier with HDAM-SA2 and gain control
Double shielded toroidal transformer, double layered bottom plate and rigid feet
Built-in Wi-Fi with 2.4GHz/5GHz dual band support
Built-in HEOS Wireless Multi-Room Audio Technology
HEOS HOME ENTERTAINMENT SKILL
Support of WAV, MP3, AAC, WMA, FLAC, ALAC file playback via USB devices
Optical, coaxial digital outputs; variable and fixed analogue outputs; RS232
Available in black or silver-gold
Now available – Apple AirPlay 2
Now available – control with Amazon Alexa voice commands
Benefits of Marantz ND8006 Network CD Player:
The Complete Digital Music Source Player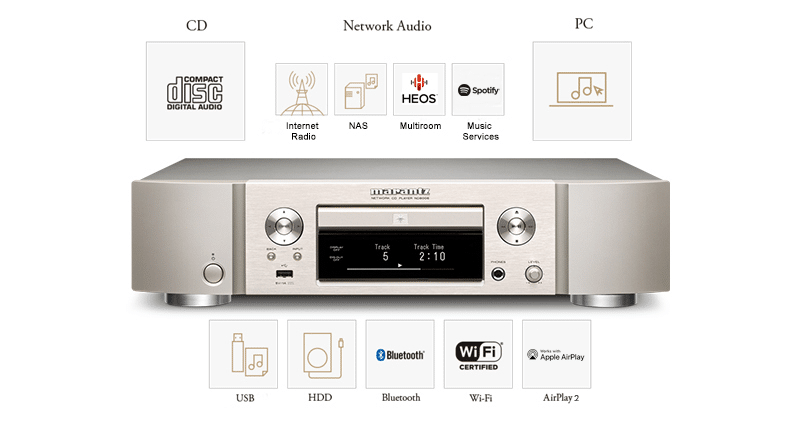 The ND8006 is built to cater to all the needs of the contemporary digital music listener, bringing together functions usually requiring two or three separate audio components. Based on the successful NA8005 and SA8005 models, but featuring a complete re-think of features and audio design, it combines a CD player with a digital sources hub offering playback from the home network, local USB storage, online sources such as streaming services and Internet radio, HEOS support and DAC functionality enabling the direct connection of computers and other devices. It's also future-ready, accepting file formats all the way up to 11.2Mhz quad-DSD and 384kHz/32-bit PCM, and additionally features both Apple AirPlay 2 and Bluetooth to play music from portable devices.
HEOS Music Streaming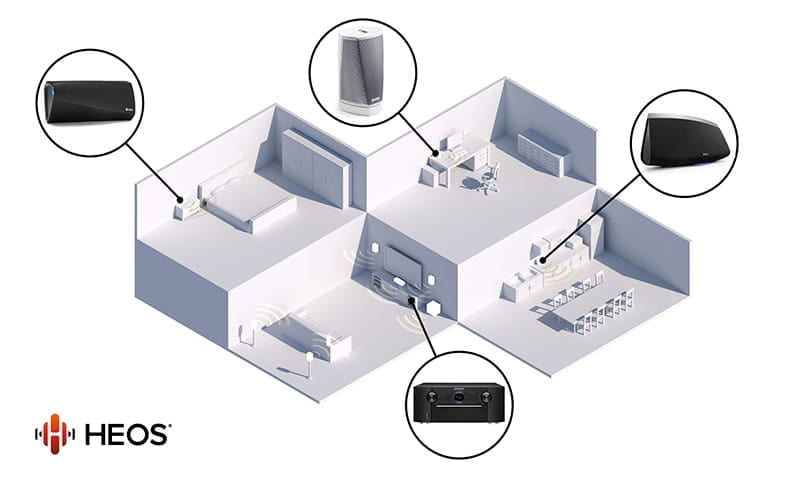 The ND8006's built-in HEOS technology facilitates easy streaming and playback of your favourite music wirelessly from literally unlimited sources. Enjoy music from Spotify, TuneIn Internet radio, Sound Cloud, Tidal, Napster, Deezer, or your local music file libraries. With additional HEOS components like the HEOS speaker range or other HEOS-capable receivers, you can play all your music reverberating across every corner of your house. Enjoy easy control with the free HEOS app.
High Resolution Audio

Optical and coaxial digital inputs as well as a USB-B port enable you to stream music directly from a PC or MAC or connect other digital sources. The USB-B works in asynchronous mode to support not only 384kHz/32bits high-resolution audio but also the DSD 2.8MHz, 5.6MHz and even 11.2MHz formats for maximized performance and the most direct way to enjoy excellent quality. To maintain strict adherence to quality when connected to a computer, Marantz built extended isolation around the USB-B input to slay the chance of high-frequency noise generated by the computer entering the ND8006. Additionally, the front USB port accepts USB thumb or hard drives for standard music file playback.
Marantz Musical Digital Filtering (MMDF)
The ND8006 is feature-packed with the unique Marantz Musical Digital Filtering (MMDF), inspired by our audiophile reference class technology. For Marantz, using standard digital filter solutions is not an option, as this filtering is crucial to the sound reproduction of digital input signals. As a result, we invested extensively in gaining expert knowledge, leading to highly-acclaimed Marantz Music Mastering technology used in award-winning Premium Range 10 Series products. Adapted for the ND8006 hardware design, the solution is called Marantz Musical Digital Filtering. Two selectable, digital filter characteristics cater for different tastes, and each handles even the minutest of detail with meticulousness in the digital audio signal, transforming new media files into the finest of high-resolution playback.
Heos, Built-in Bluetooth, Wi-Fi and AirPlay 2 Capability
Feature-packed with Bluetooth & Wi-Fi wireless streaming connectivity, the ND8006 is equipped with an advanced dual antenna transceiver system, for robust streaming even in the most cramped-up urban environments. With Apple's AirPlay 2 compatibility, you can enjoy listening to your favourite tracks wirelessly from your favourite iOS devices such as iPhone and iPad.
Maintaining the Legacy of Stellar Sound Quality
The individual "OFF mode" setting allows unused sections of the ND8006 to be switched off to avoid any chance of interference, and to keep the audio source signal paths in use as pure as possible for enhanced sound quality. The shielded toroidal transformer further cuts down internal noise while the rigid, double-layer chassis cares for optimal shielding and stability.
Audiophile D/A Conversion and Unique Marantz HDAM
The ND8006 is built with legendary Marantz sound quality commitment. The audiophile ESS9016 Sabre DAC, with dual crystal clocks, ensures accurate handling of all digital signals. The analogue circuitry utilizes judiciously selected components plus the famous Marantz Hyper-Dynamic Amplifier Modules (HDAMs) resulting in wide dynamic range and barely perceptible distortion: in place of the all-in-one 'chip amplifiers' used elsewhere, these miniature amplifiers are built from separate, optimised components for the most amazing sound quality, and are found in Marantz products all the way up to the Reference series players and amplifiers.
High Quality Headphone Output
For music enthusiasts enjoying their favourite recording directly via headphones, the ND8006 features a high-quality headphone stage with a dedicated amplifier module HDAM-SA2. To work with a wider variety of headphones, the gain factor can be changed from low to mid to high. By using this, it is possible to drive low to high impedance headphone without any problem.
Independent Variable Output Terminal
Alongside its conventional line output for use into an amplifier like the perfectly matching PM8006, the ND8006 provides a separate variable level output for connection to powered or active speakers, or to a power amp direct input, facilitating its use a multi-source digital player/preamp. The volume can also be controlled via apps or by using the remote handset.
Technical Specifications of Marantz ND8006 Network CD Player:
Brand & Model #

Marantz ND-8006

Features

Network audio streaming: o
Spotify Connect* / Tidal* / Deezer* / others *: o / o / o / o
AirPlay Audio Streaming: o
Internet radio: tunein
HEOS Multiroom and Streaming: o
CD Compatibility: CD / CD-R/RW / SA-CD / WMA / MP3 / AAC: o / o / – / o / o / –
CD-Text / SA-CD Text / ID3 Tag / WMA Meta Tag / AAC Meta data: – / – / o / o / –
Data Disc Compatibility: DSD / WAV / ALAC: – / – / –
USB input for memory stick: o
DAC operation mode: USB-B / Coax / Optical: o / o / o
Asynchronous mode rear USB-B: o
Bit-perfect transmission: o
USB-B DSD Audio Streaming (DoP): DSD2.8 / DSD5.6 / DSD11.2: o / o / o
Signal isolator for DAC Mode operation: o
Jitter Reducer: o
HDAM version: HDAM+HDAM SA2
Power Transformer: Toroidal / El: o / –
High Grade Audio Components: o
Customised Components: o
Symmetric circuit layout: o
Copper plated chassis: –
Extra metal plate for chassis strengthing: o (1.5mm)
Digital out off / Audio EX Mode: o / –
Headphone: Standard / Buffer / Current feedback: – / – / o (HDAM SA2)

Network

Wi-Fi / Wired LAN: 2.4GHz, 5GHz / o
Wi-Fi on / off mode: o
Bluetooth on / off mode : o
Lossy formats MP3 / WMA / AAC: o / o / o
Lossless formats: DSD / FLAC HD 192/24 / ALAC 96/24 / WAV 192/24: o / o / o / o
Gapless playback: o (FLAC, WAV, DSD)
Remote APP: iDevice / Android: o / o
App control AMP/CD via Network Player: o
AirPlay 2 audio streaming: o

Others

Selectable filter: CD / SA-CD / DAC-Mode: o/ – / o(PCM Only)
Separated rectifier circuit for analogue and digital circuitry: o
Display: Dimmer / Off: o / o

Playback

Program Play (CD / SA-CD): 25 / –
Repeat: o
Random Play: o

Inputs/Outputs

Analogue Out (Cinch): o
Variable Out (Cinch): o
Balanced Out: o
Digital Optical In / Out: 2/1
Digital Coaxial In / Out: 1/1
Sample Rate digital In: 192 kHz / 24-bit
Gold Plated Cinch: o
USB Audio (front): o
USB type B input for PC (rear) Sample Rate USB type B In: o
USB type B input for PC (rear) up to DSD11.2: o
D-Bus: o
Headphone Out: o
Headphone Volume Control: o
Ethernet port: o
IP control: o
Flasher input: o
RS232: o

Specifications

Mechanism: JTL-101Y
D/A Conversion: ESS Hyper Stream
DAC IC: ES9016
Digital Filter: ES9016
Noise Shaper: ES9016
Low Pass Filter stage: HDAM
Output Buffer: HDAM SA2
Headphone amp: HDAM SA2
Frequency Response: 2 Hz – 20 kHz
Dynamic Range: 100 dB
Signal to Noise Ratio: 110 dB
Total Harmonic Distortion: 0.00002
Channel Separation: 105 dB

General

Metal Front Panel: o
Remote Control: RC001PMND
Power Consumption in W: 42 Watts
Standby Consumption in W: 0.3 Watts
Auto Power off: o
Detachable Power Cable: o
Maximum Dimensions (W x D x H): 440 x 341 x 106 mm
Weight: 8 kg
Marantz employs product designers and engineers with over 30 years of know-how and experience. They perform over 50 different quality validation and assurance tests for every piece that ships with the Marantz name on it. Every Marantz takes years of up-front design detailing, sound obsessing, and experience validation before they deliver a single unit to you. And they continue testing throughout the product's life. Everything they know and everything they do is intended to make your Marantz ownership better. That's the real value of 70 years.